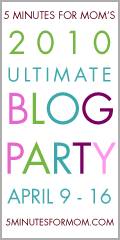 I'm new to this whole blogging thing(and a bit intimidated by it to be honest)...and this is my first Ultimate Blog Party.
A little about me...
I live in Alaska...never in a million years did I think that I would ever live here, let alone visit.
I have 3 beautiful kiddos! See sidebar for their cute faces! We're pretty sure that the princess will be home with us next year as she starts Kindergarten and we venture into the world of homeschooling.
I've been married to my wonderful husband for 8 1/2 years(we met and married in 13 months)...but you won't see him much on the blog.
I am so thankful to be loved by Jesus Christ! (and to be able to love Him back)
I love all things related to babies, birth, health and wellness, traveling, reading, knitting...and more!
So if you have any questions about me look around, if you don't find what you're wanting to know just email! And come join me at the Ultimate Blog Party 2010!!
It's easy...click on the link above and look at the
directions
...write up your own post and add the prizes you'd like to win!
If I were to win my top 3 picks are:
The grand prize-a laptop!! (I'd LOVE one!) by 5minutesformom.com
USC 60- Wallslicks Gift Certificate by Wall Slicks (these would be great for our rental!)
USC 17- Apple Gift Certificate by cmomgo(I love music and movies!)
If I didn't win those I'd also love
63, 104, 1, 100, 35, USC4, USC15, USC35, and any of the Target, Amazon, or Paypal gift cards.
Thanks for reading about me:) I can't wait to meet you all!